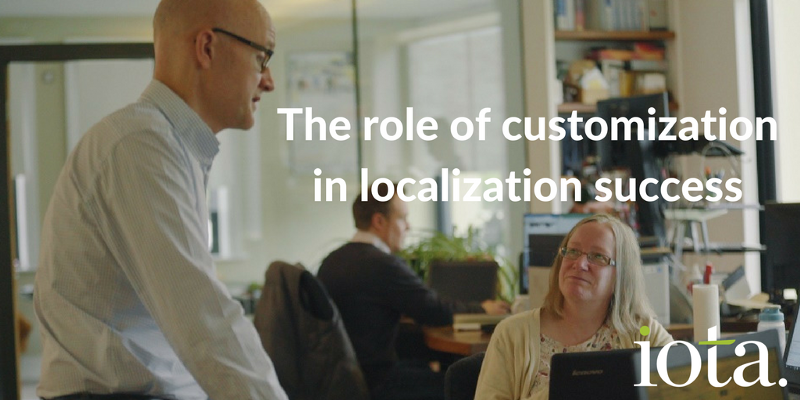 One of the challenges we face on a daily basis is our customers' increasing need to get more details, facts and figures about their project assets, and to give them a better understanding of what can be done and by when. Source material is getting bigger and more complex, but sometimes the budgets (and the deadlines) are not expanding to match.
We've seen projects grow from medium sized projects which would invariably be completed in their entirety across all languages to much larger, multi-strand setups where certain elements are included and excluded across different language sets, often depending on target markets and available budgets.
Effectively what this means is that instead of just pointing a TM tool at a full set of files and producing a nice consistent analysis log across all languages, we are more often providing a "menu" of items which our customers can pick and choose from, depending on their requirements. And that is where customisation fits in — unless you can be flexible with your pre-translation processing, you end up with a one-size-fits-all solution which will not work in a lot of situations.
So what does customisation actually mean? It can mean a number of things actually — such as knowing which people to use and when for specific projects and tasks, dividing work effectively across people, using technology to share relevant information across teams (customers, translators and project management), utilising the best file handling and TM methodologies to achieve the highest possible leverage and even developing tools and systems to fine tune file-handling based on customer requirements.
Case in point — one of our regular projects has grown from a simple, flat structured help content type project into a multi-faceted, interactive, online training system with numerous format types, now split into modules and sub-modules, with different elements localised into different languages, often depending on market requirements and budgets. Initially all files were processed through the TM system and costed, and all translation work was carried out in all languages. Customising our processes and developing our own unique set of file manipulation tools has allowed us to grow with the project, ensuring we can meeting the increasingly complex demands of the project. Involving the right people at the right time means that as each new requirement is put in front of us, we can quickly address it and build it in to our overall project processes. In fact, as we get further into customising solutions for our clients, we often find that we are able to offer new approaches and ideas to them that they hadn't even thought about, demonstrating that real customised solutions are more than just reactive patch-ups to get over a hump.
When planning your localisation project, it's a useful exercise to think what it might look like in 6 or 12 months time. Localisation projects are becoming more fluid, larger and more complex, and it would be a prudent exercise to evaluate your localisation provider's ability to handle changing project requirements as well as being able to handle the project as it currently stands.
https://iotals.com/wp-content/uploads/2018/09/1-QS0KG1v6STus7oPwSmuO6w.png
400
800
Nigel Cox
https://iotals.com/wp-content/uploads/2018/08/iotalogo.png
Nigel Cox
2017-11-15 12:37:03
2018-10-24 16:05:24
Customising Your Way To Localisation Success