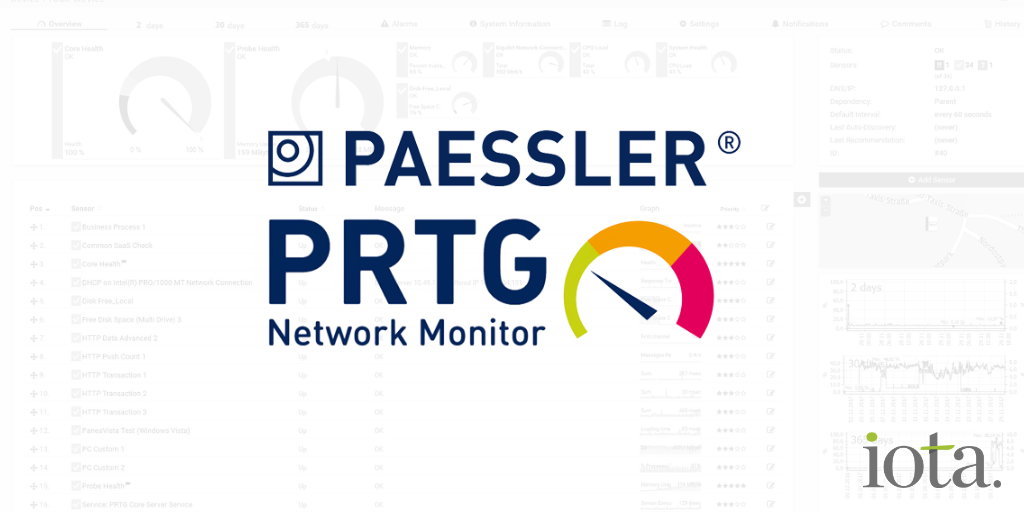 HQ in Nuremberg, Germany with a presence across every continent
Over 200,000 users in more than 170 countries
2 million lines of code and multiple programming languages
Software UI available in 9 languages
The Company
Back in 1997, in a classic 'student in a garage' start-up story, Dirk Paessler developed his first software product. A product that went on to become one of the most widely used and respected network monitoring solutions in the IT industry today – PRTG Network Monitor.
Paessler AG's award winning PRTG Network Monitor is a powerful, affordable and easy-to-use Unified Monitoring solution, used in enterprises and organisations of all sizes and industries.
PRTG Network Monitor has been used by international organisations since its launch, but the most rapid increase in the adoption of the product has been seen since 2012. At this time Paessler recruited intensively to bring new skills into all organisational departments. This period also marked the beginning of their collaboration with Iota – aimed at consolidating and expanding their localisation efforts. Paessler's commitment to the global user-base of PRTG ties in closely to the organisation's core aim of delivering the best product they can in every region they work in.
Paessler's product localisation program is led by Martina Wittmann from the company's headquarters in Nuremberg. Martina is a native German speaker and linguist who also speaks English, French and Italian and combines her localisation role with that of technical writer. Working closely with an assigned developer, Martina and the team take responsibility for localisation, QA and translation into more than 8 languages.
The Partnership
Collaboration is key to Paessler's localisation success. Not only within the organisation, but also with Iota's team of project managers and engineers, who play a crucial role in working with Martina to ensure that product releases are translated on time, in line with the expectations of users, and consistently with Paessler's established terminology.
It's a complex process. The PRTG localisation program covers 2 million lines of code, multiple programming languages, and an in-depth QA process that covers everything from the user experience to more technical aspects like the correct use of functional placeholders throughout UI strings.
In common with many established software products, PRTG Network Monitor is built using a unique XML structure that needs to be handled carefully to maintain its integrity. Managing this isn't easy, and Iota's localisation engineers have worked with Martina and her developers to create an effective process to enable the software to pull individual languages on-demand.
"The engineering and technical interface between Paessler and Iota is great – it makes solving any localisation problems with the software so much easier"

Martina Wittmann, Paessler AG.
From a linguistic perspective, terminology plays a significant role in the localisation process. Network monitoring involves multiple protocols and technologies that the organisation's technical writers need to communicate in such a way that all IT professionals, experienced and less experienced, can understand.
Making highly technical concepts accessible in all languages requires careful integration and regular communication between Paessler's team and Iota's linguists and project managers. Iota use a carefully selected group of translators to work on Paessler's projects, many of whom have been translating material for PRTG Network Monitor for many years. Their experience and expertise, coupled with proactive project management and a strong relationship with the Paessler team, delivers high quality translations that are consistent with the source tone and intended technical meaning.
"Terminology challenges are exacerbated if the localisation process and translation isn't of the highest quality"

Martina Wittmann, Paessler AG.
The Future
One of the universal challenges in software localisation is context. Text strings extracted from a product UI and viewed in isolation can be incorrectly translated if the context of the string isn't known.
For example, PRTG Network Monitor users see a countdown timer in the footer of the software that shows the time remaining until the next page refresh. The underlying label text is a single word, 'Refresh', and is purely informational – not active like a button that would invite the user to click to refresh the page. Without context, it would be understandable if a translator unfamiliar with this element of the UI translated the string with an active voice in certain languages, which would be incorrect and flagged at QA stage.
To prevent such context-based errors occurring and impacting on the QA process as the product develops, Martina is working with her team and Iota to implement a process where developers add comments to new strings that provide context at translation stage. The Iota team use a similar approach with a number of clients and can make comments visible alongside the string in the workbench that translators use to carry out their work.
The long-term objective of the project is to optimize localisation quality as the product grows and develops, and to further streamline the QA process.
"Working so closely with the team at Iota makes it easier to develop a program that works well for us"

Martina Wittmann, Paessler AG.
Whilst Paessler's commitment to international users has been apparent for many years, they are always looking for ways to further embed this as the organisation grows. As the product localisation lead, Martina is implementing a series of team talks across the business to highlight the importance and value of quality localisation in achieving top-level corporate objectives.
Localisation is seen as an investment within Paessler AG, and the level of commitment they have to their program is apparent in their primary success measure – user satisfaction…
"We know that the translation and localisation program is working as it should when international users don't even notice that they're using a piece of software that has been localised from English"

Martina Wittmann, Paessler AG.
https://iotals.com/wp-content/uploads/2019/02/Paessler-User-Story.png
512
1024
Nigel Cox
https://iotals.com/wp-content/uploads/2018/08/iotalogo.png
Nigel Cox
2019-02-20 14:16:59
2019-07-08 17:01:23
Product Localisation - PRTG Network Monitor